1500t/h bridge-type grab ship unloader at Indonesia TJB plant
Publish Date:2012-01-30
Brief description
The unloader is generally contracted by US BLACK&VETCH Company which belongs to Japan Sumitomo Indonesia TJB plant project. HiTECH is a subcontractor who is responsible for the electrical control system design, product supply, debugging and after sale service of the unloader and bucket wheel machine. The project design, manufacture and debug pass the BV strict examination.
Mechanical parameters of the unloader: rated hoisting weight is 35t, rated productivity is 1500t/h, maximum productivity is 1800t/h, rated hoisting speed is 130m/min, unload hoisting speed is 150m/min, cart rated speed is 220m/min, carrier rated speed is 25m/min, cart seaside stroke is 35m, landside stroke is 18m. Hoisting height is 20.5m over the carrier track and 10m under the carrier track.
The electrical parameters of the unloader: machine power 10KV, cable drum power supply, main transformer DYn11 2000KVA 10KV/0.5KV, secondary transformer DYn11 315KVA 10KV/0.4KV. hoisting support, motor switching: 500KW 500VAC, cart motor: 315KW 500VAC, pitching motor: 90KW 500VAC, carrier motor: 8 18.5KW 400VAC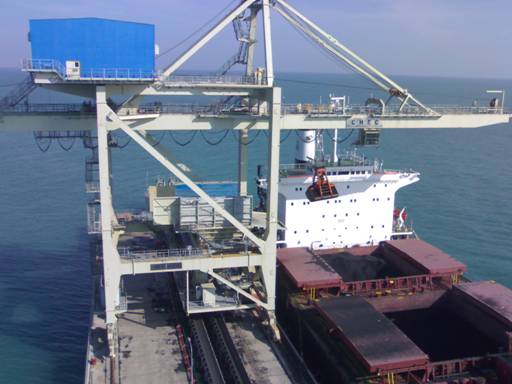 Solution
HITE integration is used as the electrical control system. The transmission module uses ABB ACS800 series ISU multi-transmission product. PLC uses Schneider QUANTUM series and remote I/O series product. PLC communicates with speed regulator by PROFIBUS-DP, exchanging data in the speed at maximum 12Mbps and fully monitoring the working status and detail information of the speed regulator. PLC communicates with CMS and touch screen by 10/100M industrial Ethernet to construct the monitoring management system which real-time monitors the system working condition, provides complete fault information and make the running and maintenance easier.
Communication network diagram
Transmission diagram