Puyuan Hesheng water treatment factory central control system
Publish Date:2012-01-30
Project introduction
Puyuan Hesheng Water Treatment Co., Ltd locates at the Puyuan knitting industry park in Tongxiang. In 2010, the company received an investment of 2.7 million Yuan and enhanced the existing wastewater treatment capacity by processing upgrading, technique improving and device updating. The capacity of wastewater treatment achieves 50000t/day. Automated monitoring technology is used in the processing design to meet the requirement to modern integrated processing and the management of processing center. The central control system in the processing center works as the central nervous system of the factory. It not only controls and monitors all the equipment running in the factory, but also automatically collects and stores large amounts of processing data to do the analysis and process. The central control system of processing center uses digital information technology such as industrial Ethernet, PLC workstations and process control sensors etc.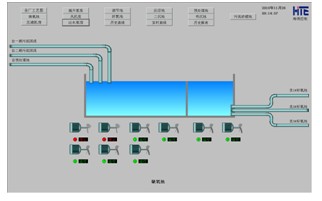 The time period of the project
From October, 2010 to November, 2011
Central control system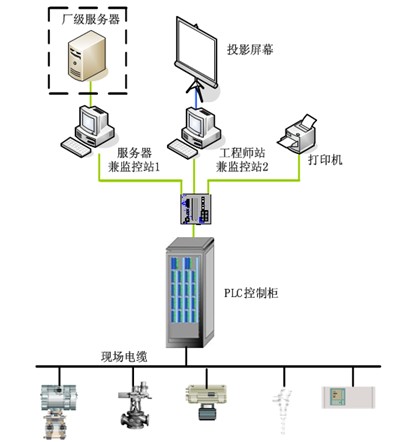 1 suit of engineer station (SIEMENS STEP7 software implemented), 2 suits of remoter operator stations (NETSCADA software implemented), 1 network printer, 1 projector and 1 suit of digital radio.
Network system
2 suits of HISCOM industrial level switches construct the fiber network while 2 digital radios constructs wireless transmission network
Field control system
1 suit of PLC control cabinet (SIEMENS 300 series PLC implemented), 1 suit of PLC control console (SIEMENS 200 series PLC implemented), 19 suits of field instruments (including current acquisition unit, thermal mass flowmeter, MLSS analyzer, ultrasonic liquid level meter, DO Analyzer, PH meter, On-line Total Phosphorus Analyzer, COD on-line analyzer etc. )
Main screen control system
1 suit of projector and projection screen, 1 suit of dual-screen video adaptor to switch the display on screen and projector
Local bridge and pipe
Weak power source and Signal Bridge, branch pipe and sample pipe etc.
Network topology