Qinzhougang water plant extension project automated control system
Publish Date:2012-01-30
Project introduction
Project background
Guangxi Qinzhou Qinzhougang water plant locates at the Qinzhougang economic development zone, which is responsible for the daily water supply of Qinzhougang district. Qinzhouguang economic development zone locates at the Qinzhou Gulf in the north of Beibu Gulf, South China Sea. It has a convenient geographic location in front of the West east China and faces to Southeast Asia. It is a good natural deep sea port in the Southwest coast line of China and has advantages for deep water berths due to its wide waters, weak wind and wave, small incoming sediment amount and stable coast. The water plant is an important infrastructure for the city development and plays of importance part in local economic development. The water plant existing production was 50000t/day since built in 1998, which is not able to meet the requirement to the city due to the economic development and citizen increase for over 10 years. This project is the second period extension. The extended water supply amount would achieve 50000t/day. Chemical feed room, flocculating settling pool, flushing pump room with filter pool, Water-supply station with clear pool and sludge dewatering room.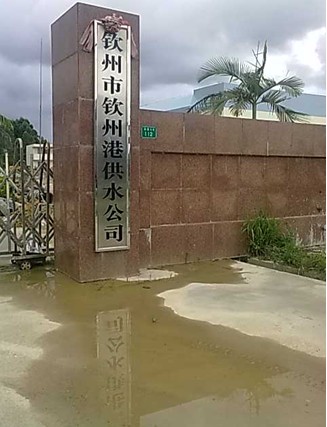 Time period of the project
July, 2010 – January, 2011
System structure
Central control system
1 suit of engineer station (UNITY Pro 5.0 implemented), 2 suits of remote operator stations (HiTECH NetSCADA implemented), 2 suits of network servers and 1 suit of engineer laptop
Network system
8 suits of HiTECH HISCOM industrial fiber switches
Local control system
5 suits of PLC control cabinets (with Schneider Premium series PLC), 6 suits of remote I/O stations (Schneider Advantys series remote I/O station) and 5 suits of local touch screen (Schneider XBT 10' touch screen)
Instrument system
Instrument is adopted with Germany E+H intelligent instruments, which includes residual chlorine detecting, PH evaluating, turbidity testing, Ultrasonic liquid level testing, pressure testing and Differential Pressure Detection.
UPS
5 suits of UPS power system (SWOF) including one 10KVA central control room UPS and 4 suits of PLC control cabinet 6KVA UPS.
Network topology