Material mix stirring system
Publish Date:2012-01-30
Nantong Selena environment-friendly construction material (26000t/year output) project uses Siemens S7-300 series PLC. The project use step 7 as the PLC programming software and WinCC as the upper-computer software. The network between PLC and the upper-computer is industrial Ethernet.
The material mix stirring control system is to mix materials proportional in a container and stir when the material is added into the container. The Revolutions of the mixer is controlled by PLC, which is needed to be increased with the weight of the ingredients. Meanwhile, the start-up and stop of the mixer has to perform according to the weight of the ingredients. Different formula needs corresponding sorts of materials and adding sequence. The weight of material has to be calculated according to the formula and the proportion. Although a material mix stirring system seems simple, it includes a complex formula management system.
The system is operated manually or automatically. Under the manual mode, the operator is able to control the valve and mixer independently, so that the amount and precision of the materials can be controlled by the operator. Under the automatically mode, the program can do the feeding and stirring according to the requirement of the operator by inputting corresponding data, improving the feeding precision and efficiency.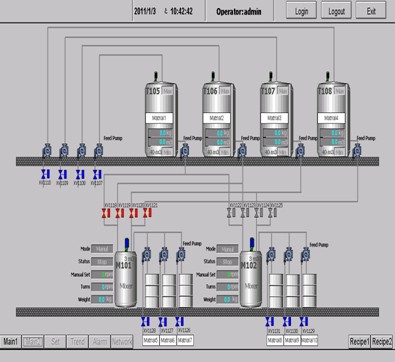 The system features are shown as follows:
Advanced formula management is introduced that, the formula can be import, export and save in the computer. The formula import/export management simplified the working load of the operator.
In a single patch of production, the automated production is completely accomplished to ensure the single patch of production is finished if no fault occurs. The production would be paused and decided by the operator to continue or stop if fault occurs.
Surplus materials, valve switch off time and temperature etc. external factors are considered before feeding to complement the data, improving the feeding precision and production accuracy
The data of production process is logged. The production report is able to be automatically generated and printed out.
Other factors are considered during the automatically feeding process such as, the upper-limit of mixer revolution speed, production pause when a material tank low level alarm occurs, the simultaneous material feeding is forbidden and formula cannot be change if automatically production is performing.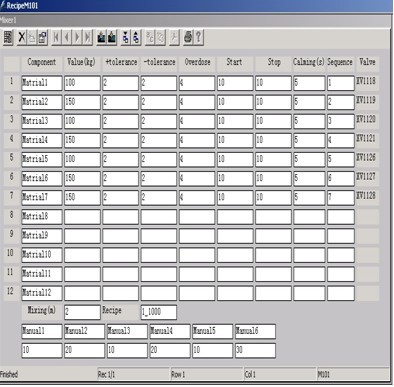 The material mix stirring system is a suit of precise designed and fully considered PLC control system, which is suitable for the projects relevant to the formula production.